Oral reading fluency, reading comprehension and listening comprehension m

easures across the literacy construct will help accelerate the development of reading fluency and comprehension skills.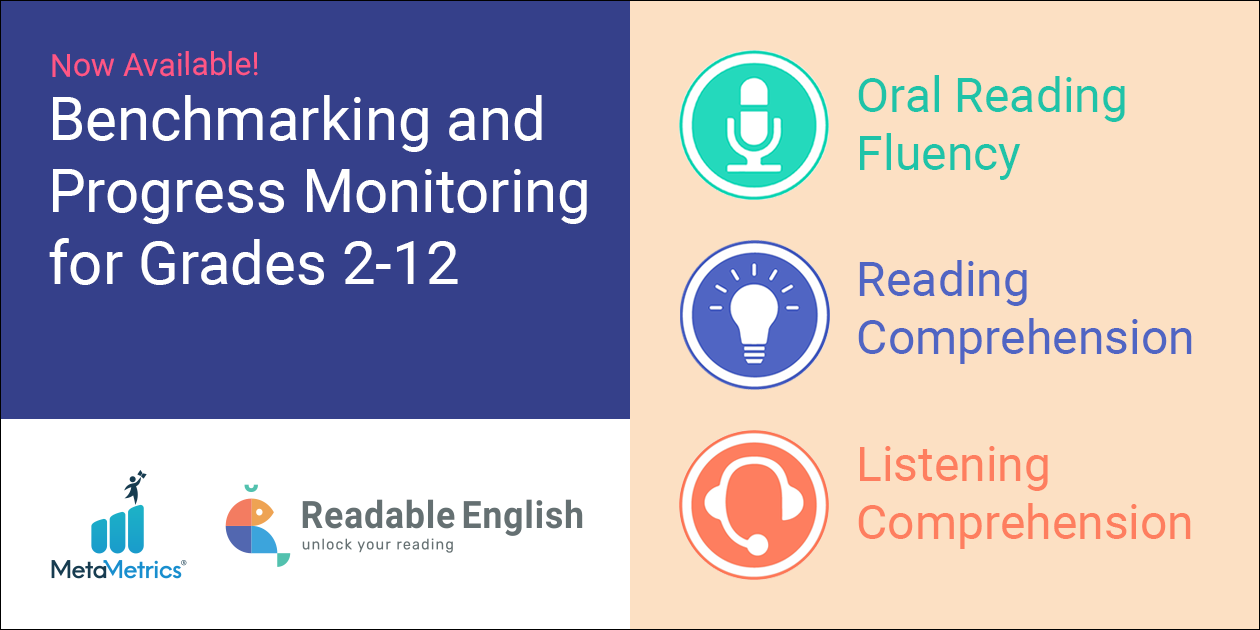 DURHAM, N.C. & Bloomington, IN — November 15, 2022 — MetaMetrics® today announced a new partnership with Readable English, making it the first education product to report Lexile® measures for oral reading, listening and reading comprehension.
Readable English is a research-based, reading intervention supported by the Science of Reading. It makes English phonetic by adding a pronunciation guide to each word providing the scaffolding needed for orthographic mapping. Using the markup, students can access and read grade-level content and academic vocabulary with confidence! Readable English is for readers who struggle, special education, and multilingual learners.
Readable English is the only company offering benchmarking and progress monitoring for three reading measures for grades 2-12.
"We developed Readable English with a simple goal: to get students reading at grade level," said Ann Fitts, founder and CEO. "By reporting all 3 measures, teachers can now get a realistic view of how their students are performing and use this ongoing data to help their students get to grade level reading."
This new partnership illustrates the growing interest from the education industry in MetaMetrics' family of Lexile measures spanning the literacy construct.
Developed more than 30 years ago, the Lexile Framework for Reading measures a student's reading comprehension ability and the text complexity, placing both the student and instructional material on the same scale to match the learner with reading materials at their level. In the past several years, MetaMetrics® expanded the power of the Lexile scale across the literacy spectrum, developing the Lexile Framework for Oral Reading and the Lexile Framework for Listening.
The Lexile Framework for Listening measures both the listening comprehension ability of students and audio complexity of resources so students can be matched to ability-appropriate audio materials.
The Lexile Framework for Oral Reading is a scientific approach to measuring both students' oral reading ability and the oral readability of text on the same scale. For decades, student oral reading ability has been measured using Words Correct Per Minute (WCPM). The Lexile Framework for Oral Reading builds upon WCPM to take into account the difficulty of the passage a student is reading. Lexile oral reading measures provide a more accurate measure and a way to measure growth in oral reading.
"We expanded our literacy frameworks, recognizing that strong literacy skills are built on the foundation of oral reading fluency, listening and reading comprehension abilities," said Malbert Smith, CEO and co-founder. "We look forward to collaborating with Ann and her team as they pioneer reporting all three of our Lexile measures from their innovative program."
About Readable English
Readable English, LLC brings an innovative suite of science-based products and services to the struggle against illiteracy, a condition that diminishes the lives of some 800 million people worldwide. This number includes two-thirds of our nation's K-12 students who are reading "below-proficiency," a situation that has shown no improvement for nearly 30 years. With patented technology, coaching, and professional development services, Readable English helps schools and districts boost measured reading proficiency by offering a cutting-edge solution to the underlying causes of reading failure. The mission of this fast-growing company is to accelerate reading proficiency and combat the deeply damaging effects of illiteracy, so students attain happier, healthier lives that are more productive, fulfilling and rewarding.
For more information, visit https://www.readablenglish.com.
About MetaMetrics®
MetaMetrics® is an award-winning education technology organization that offers the only scientifically valid, universal scales for measuring silent and oral reading and listening (Lexile) and math (Quantile) with plans to develop measures for writing. The Lexile and Quantile Frameworks measure student ability and the complexity of the content they encounter. Lexile and Quantile measures and related technologies link assessment to instruction and provide the next steps for students of all ages and abilities. The measures also provide valuable insights into students' potential for growth. MetaMetrics' measures, products, and services are licensed to dozens of education product companies to help achieve that growth. For 35 years, MetaMetrics' work has been increasingly recognized for its research-based approach to improving learning.
For more information, visit https://metametricsinc.com/.