Ashlea Dunkerly, Bloomfield Middle School ELA teacher, understands the importance of using Readable English to help her middle school students close the reading gap while simultaneously closing the knowledge gap.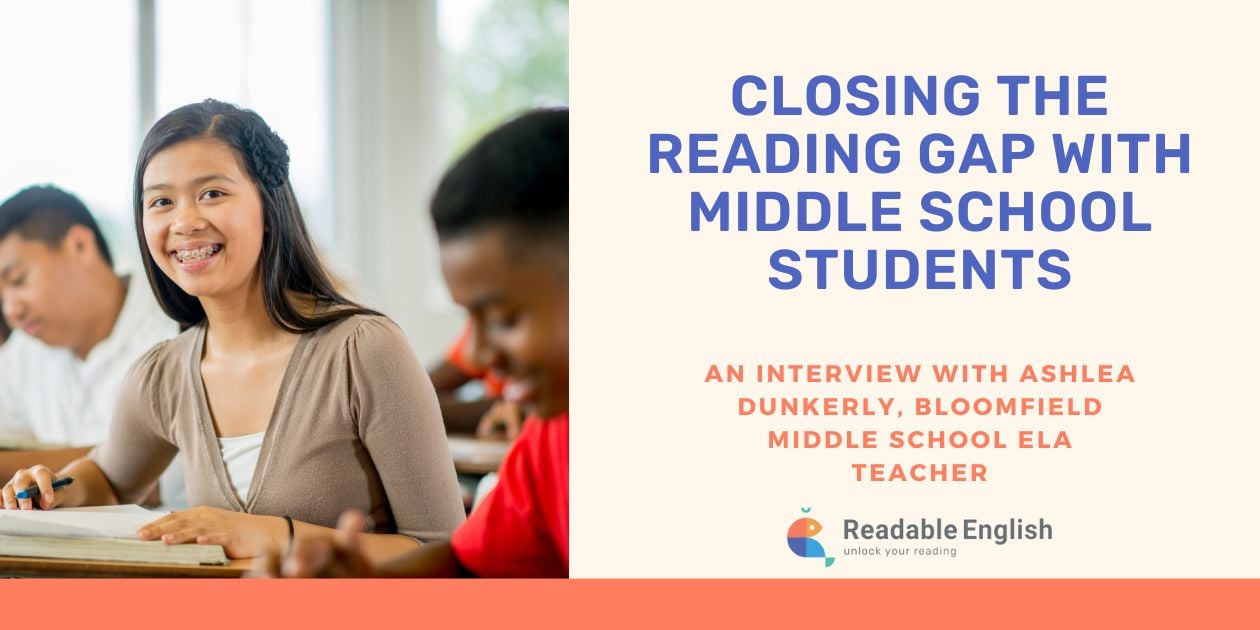 Last month, Ashlea joined our Readable English team at the Association of Middle Level Educators (AMLE) Conference to share her perspective on the importance of closing the reading gap for middle school students, and how she was able to begin to attain this by implementing a bold and innovative approach for her students with Readable English.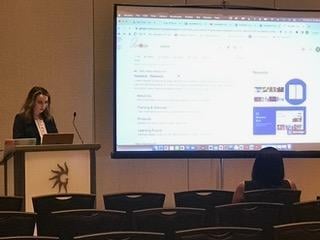 *Ashlea presenting at the AMLE Conference
Introduction to Ashlea Dunkerly
Ashlea graduated from the University of Southern Indiana in 2011 with a Bachelor of Science degree in Elementary Education. She started working at Bloomfield Elementary in August of 2011 as a reading specialist with Title I. In the 2012 school year, Ashlea moved to the middle school to teach 7th and 8th grade Social Studies and English classes, which is where she has remained since. Ashlea has experience teaching English 7, English, 8 English 9, Honors English 7, Honors English 8, Basic Skills, Reading and Literature 6, Reading and Literature 8, Geography 7, and History 8. In 2016, Ashlea graduated from Indiana State University with a Masters degree in School Supervision and Administration and is also a licensed principal. Ashlea has been married to her high school sweetheart for 11 years, and they have two children ages 8 and 6.
We are thrilled to share Ashlea's Readable English interview with you!
Prior to implementing Readable English, explain to us your struggles with regards to grade level reading for your students.
Many of my students really struggled with reading grade-level content. Because of their reading difficulties, their comprehension was also greatly affected. I found myself reading a significant amount of material to them, or they would be frustrated with reading.
What made Readable English stand out to you when compared to past practices/programs you had been using?
Readable English was unlike anything I had ever seen. It was a very quick way to get students reading independently and fluently. It gave my students the tools they needed to be successful in their reading.
What was the biggest challenge to implementing Readable English in your ELA classes?
The biggest challenge to implementing Readable English in the beginning was time management. I was apprehensive about fitting it into my already busy Language Arts classes. I quickly found a rhythm and was able to get the glyphs taught as bell ringers in just over a month.
What have you been able to achieve in grade-level reading since using Readable English in your classes?
Most recently, my English 8 classes read an entire novel as a class without me reading a single word, and then they all passed the comprehension test.
What about Readable English has surprised you the most?
I was most surprised by how easy it was to implement. I can quickly use the conversion tool and my students have instant accessibility and can work independently.
What is the main reason you would recommend Readable English to other middle school teachers?
I would recommend Readable English to other middle school teachers because it really empowers your students. It enhances their reading skills and builds so much confidence.
If there's one word you would use to describe working with the Readable English team, what would it be and why?
Accommodating…the trainers, my coaches, the support staff. All of the people at Readable English go above and beyond to accommodate their teachers. If I have any issues, if I need ideas for implementing a lesson, if I need a cheerleader; they are easily accessible and there to support me. Also, when teachers have suggestions about the website or the program, they listen and do their best to accommodate the suggestions.
How have your students been impacted since implementing Readable English?
My students have been impacted in lots of ways. First, they are reading more independently, and they have all made gains. Next, they are taking a more active role in their learning. And lastly, they have started to track their data and set goals. Readable English has helped them take ownership of their learning.
What was one unexpected benefit from using Readable English with your students?
I didn't expect students to be so interested in tracking their data. I am really proud of how they are taking an active role in setting goals and monitoring their own learning.
If you had to choose one, what would be your favorite feature of the Readable English program? How has it made an impact for your students?
The conversion tool is my favorite feature. It is so quick and easy to use. I appreciate that there are three different levels, so all different types of materials can be converted. It has impacted my students significantly because they can read grade-level content with success. I am able to push other students to beyond grade level reading as well.
What's one story of student growth and success that you attribute to the implementation of Readable English?
I have a student that on November 1 was reading 65 words a minute at a 245 Lexile with 59% accuracy. One month later, that same student is reading 120 words a minute at a 925 Lexile with 99% accuracy. In that time, this student has converted almost all reading material in class and has worked very hard in Phase 2 of the program. This has made a huge difference in the student's reading. For the first time ever, the student asked to read aloud during class. I love the confidence I am seeing from this program.
We are so thankful for Ashlea's time and willingness to share her experiences using Readable English in her classes. We look forward to bringing many more interviews with teachers using Readable English to our blog in the coming year! We hope to empower and support all of our current teachers using Readable English as well as those who will join us in the future. Readable English believes that every student can learn to read on grade-level quickly with authentic classroom grade-level content!
For more information, visit https://www.readablenglish.com.